WEEE Items Electrical 16 02 14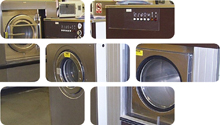 The treatment of all end-of-life Waste Electrical and Electronic Equipment (WEEE) items that are in-Scope is governed in England, Wales, Scotland and Northern Ireland by the WEEE Regulations 2013. These reflect the European Commission WEEE Directive. WEEE Items are manufactured from a wide range of materials, components, electronics, fluids and gases in various sizes, condition and quality depending on the desired function, purpose or retail choice. Some WEEE Items contain hazardous components, materials, fluids or gases that need specialist treatment at appropriate and approved facilities. WEEE Items should only be landfilled as a last resort or if required by the WEEE Regulations. This DRIDS is for non-hazardous WEEE Items only; a separate DRIDS covers WEEE Items that contain hazardous components, materials, fluids or gases.
Usage & Probable Locations
There are hundreds of thousands of different types of WEEE Items, categorised in the WEE Regulations as: large/small household appliances, IT/Telecommunications equipment, consumer equipment and photovoltaic panels, lighting equipment, electrical and electronic tools, toys/leisure/sports equipment, medical devices, monitoring/control instruments and automatic dispensers. Collectively they are used for a wide range of electrical and electronic functions within or outside buildings, structures and infrastructure. They can be found in all areas of a building either free-standing or integrated with other building components and elements including ceilings, walls, floors, corridors, roofs, as architectural features and for external display/lighting. See WEEE Schedule 2 in Further Reading for an indicative list of types of EEE which fall under the ten categories.